Recycle More - at your nearest - Local Authority Household Waste Recycling Centre
Greater Manchester Waste Ltd Plant, Longley Lane, Sharston, Manchester, M22 4RQ
Waste Types Accepted: Car Batteries, Tyres, Garden Waste, Christmas Trees, Bulky Garden Waste, Bricks, Rubble, Concrete, Soil, Asbestos, Scrap Wood, Glass Bottles (Green), Glass Bottles (Amber), Glass Bottles (Clear), Car Oil, Aluminium Foil, Aluminium Cans, Mixed Metal Food & Drink Cans, Aerosols, Mixed Scrap Metal, Steel Food & Drink Cans, Bikes, Books, CARDBOARD, Christmas Cards, Mixed Paper (incl Newspapers, Junkmail, Magazines), All Textiles, Clothes, Sheets, Blankets, etc, Shoes, Domestic Batteries, Fluorescent Lamps, Cooling Appliances, Display Equipment, General WEEE, Large Household Appliances, Gas Discharge Lamps
Visit http://www.recycle-more.co.uk for more places to recycle.
Wythenshawe Hospital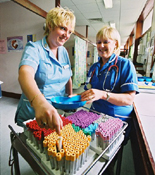 (Continued from Page 1). When I was around 10 they fixed my belly button (apparently I had an umbilical hernia from birth - sounds more complicated than it was - I didn't even know I had it).
When I was 36, they fixed my ankle - I nearly broke it - I went over on it when I accidentally stood on a small football; while I was playing in the back garden (it swelled up like a giant purple balloon).
Then I hit my thumb nail with a hammer (don't ask) and a nice nurse fixed my blood blister and saved my nail from coming off (which I'm sure would is unpleasant). Who hasn't used Wythenshawe hospital more than once?
Wythenshawe Housing Links
Willow Park
Right to Buy - WARNING
We repeat advice from Willow Park housing - beware of callers offering help with Right to Buy. You can apply for right to buy yourself for FREE £0.00 - no not pay some stranger money for doing nothing - just call Willow Park their phone number is in the phonebook (and also on your rent book or rent statement).
If you have advice for people in Wythenshawe - let us know. Don't let it happen to someone else.
Wythenshawe Residents Associations
Let us know if you know any, or want to add one.
Wythenshawe Health
Wythenshawe Health Links
Wythenshawe Walk-In Centre, 1 Stancliffe Road, Benchill ... 0161 946 0065
Wythenshawe's own web site
Surprised it took till 2004 for Wythenshawe.org and Wythenshawe.ork.uk to get registered. Is Wythenshawe behind the times? Let us know. My brother said; Why bother with this - no one in Wythenshawe is on the internet (but I beg to differ - and I guess you do to).
Wythenshawe Forum
Treadmills, rowing machines, stepping machines, weights, swimming pool, tanning cabinets, steam room, sauna, workout classes, aerobics ... Tel: 0161 935 9725
Go with a friend - the more the merrier.
Swimming is very good exercise - but so is walking. Instead of waiting for the bus - walk to the next stop (I did - and I enjoyed it that much, when the bus caught up with me, I decided to walk the rest of the way).
Wythenshawe Church Links
Wythenshawe Police and Policing
Crimestoppers ... 0800 555 111
But this is faster ... 0161 872 5050
As a citizen it is your duty to report crime. This benefits you, your neighbours and your area.
If you operate a homewatch and you have advice for other people contact us.
Wythenshawe Advice
Web links and phone numbers a plenty. Your head will be spinning with so much advice.